Snapdeal Files Police Case Against Former Heads Of Local Logistics Firm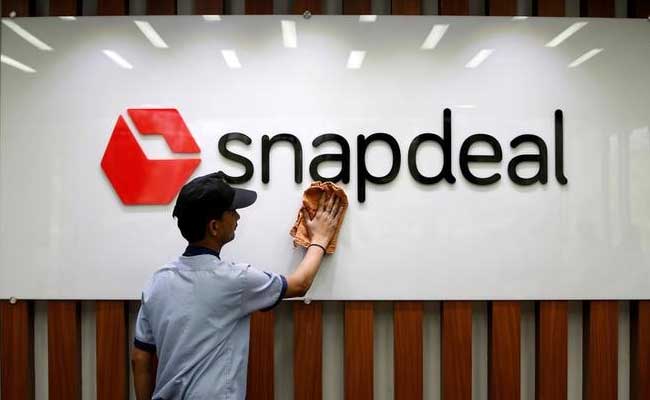 The company, which is backed by Japans Softbank, accused some former directors and former management of Quickdel of misappropriation.
New-age tech-savvy buyer is seeking experience
Indian retailers are still playing catch up with these customers
1st June, Delhi- Campus Shoes, one of the fastest growing Indian footwear brands is set to open 50 exclusive outlets in the country by March 2018 so as to reach a wider customer base and serve its customers with ease. As a step forward in this direction, Campus Shoes has already opened three exclusive stores in New Delhi. More stores are coming up in the same region including nearby areas like NCR, Ghaziabad, Gurgaon, Faridabad, Bahadurgarh, Sonipat etc. In the beginning, the brand is targeting middle and upper middle markets.
Nikhil Aggarwal, Managing Director, Campus Shoes avers, "In the footwear industry, look and feel of the product is a critical buying factor. While youth may buy online, others still prefer to see and try the product before making a purchase decision. These reasons have motivated us to come up with the brick and mortar stores to serve the wide range of Indian customers. Through these exclusive stores, we would also be able to educate our customers in a better way about the technology which goes into the making of Campus Shoes."

He adds further, "Campus Exclusive brand outlets, would give us an opportunity to display our entire range of products i.e., daily wear to formal, sportswear to casual, elegant stylish footwear for men to fashion-statement models and glittering designs for women to fun and frolic footwear for kids at one place."

All the exclusive stores of Campus Shoes will house the complete range of Campus shoes. The display of the products will be based on various performance attributes such as running, outdoor, lifestyle and training. Each store will have 200+ products for the customers to choose from.


1 / 3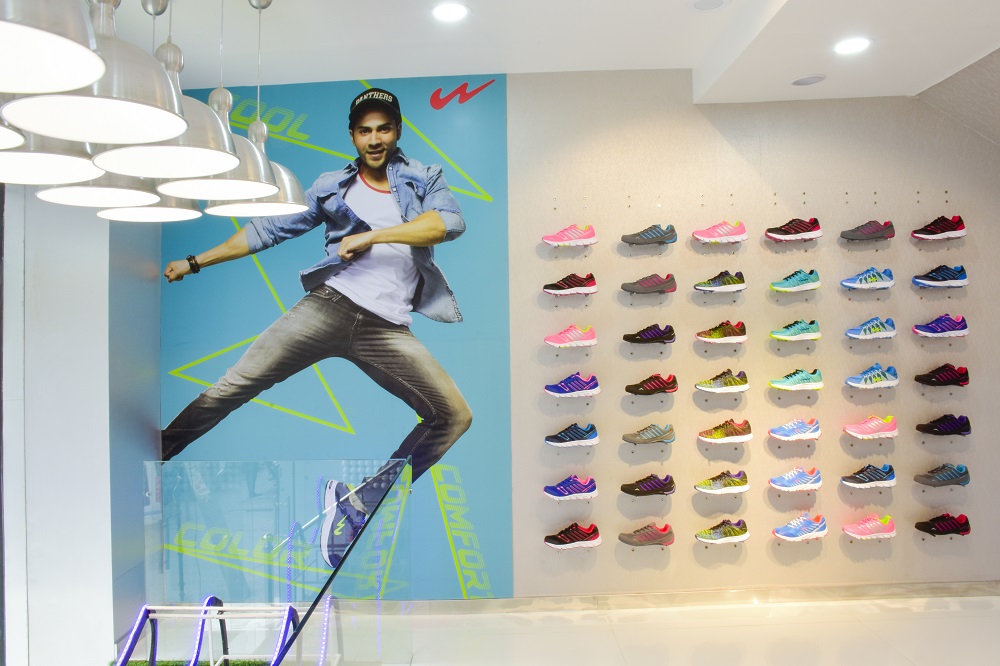 2 / 3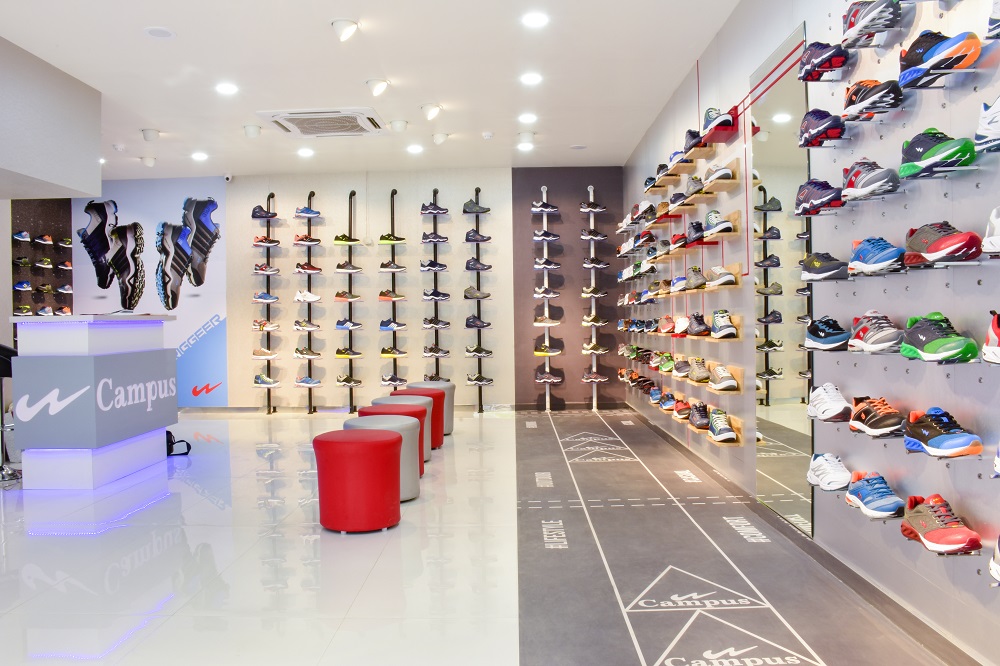 3 / 3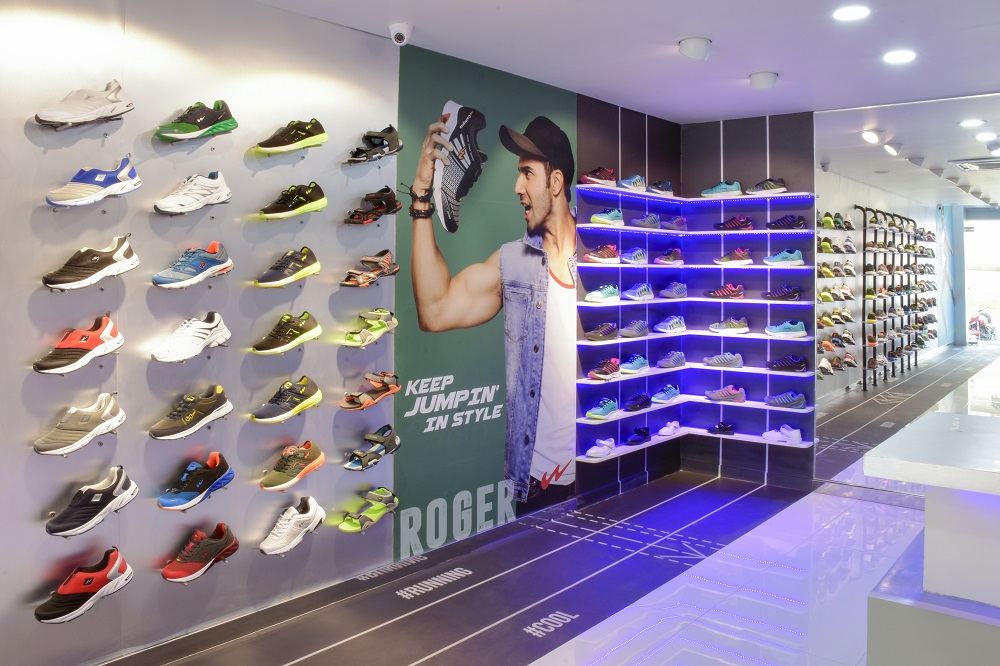 From the interiors to the colour scheme, the brand is focusing on every aspect in detail. Particularly, the colour theme for the stores is grey, white and red. "The colours are selected such that they give an energised look and feel to the store and inspire everyone to move towards achieving their fitness goals with maximum comfort and exceptional style. Overall, the look and feel of the store is kept very modern and edgy" says Nikhil Aggarwal, Managing Director, Campus Shoes.

Through the 50 exclusive branded stores, the Delhi-based premier footwear brand--Campus Shoes (belonging to the premier business conglomerate of India--Action Group), aims of becoming the fastest, youngest and premium footwear brand in India displaying innovative, comfortable, quality and value for money products.

About Campus Shoes : With an aim to enrich many resumes and become the best friends of the whole family, Campus Shoes hit the ground in 1997.The Delhi-based premier footwear brand which is led by Nikhil Agarwal as its Managing Director, manufactures nearly 20,000 pairs of footwear items, every day at its 20 manufacturing units spread over various locations of India. The brand belongs to the premier business conglomerate of India--Action Group. The brand even serves the global as well as Indian customers through its online outlet - campusshoes.com. Company has 20 manufacturing units spread over various locations of India.
Mumbai, India, May. 25, 2017- Bangalore based business consultant start up SummentorPro today announced its strategic launch of their online portal "C-Cart" on the 29th June at the Real Estate InPro HUB, India's first open innovation forum to witness Investment, Procurement and Technology at one stretch taking place on the 29th and 30th June in Mumbai. They are opening up their online portal to all 200+ attendees including associations like NAREDCO, NARINDIA & PHDCCI and procurement supply members like Deceuninck ,Moksh Infra, Merge Stones, Litolier Marble, Silvan Innovation Labs, Ardex Endura, Shree Cement and many more. "C-Cart" has been built and developed by 2 IIT Indore students, because the start-up truly believes that the young Indians are the way forward to a better India.
"C-Cart's" unique B2B & B2C analytics offers a simple and effective solution for generating sales leads , to the buying and supplying committees of the Real Estate segment to access the best of both worlds, along with that this portal has been developed with smart search options to build connections through econtacts with an innovative idea of providing a complete frame work of Customer Experience Management. The intelligent algorithm is designed to provide each user the options of exactly what they are looking for. C-cart is offered to all attendees of the Real Estate Inpro HUB to reach a bigger audience on what is set to be an exciting week for India's vibrant days ahead.

Nitika Shahi, CEO at Summentor Pro Business Consultants stated "We wanted to incorporate a faster sales making technology for Real Estate companies post de-monetisation, to offer assistance for continued growth, and hit a recovery mode faster than expected. C-cart aims at improvising segments like MSME's, SME's, Agriculture, Dairy & Pharmaceutical industries in India very soon."

Notes to editors:

About Summentor Pro Business Consultants - Aims to enhance the complete economy of India, through the meeting of youth, creative minds and innovation, allowing industries to set strong benchmarks making them future proof. We thrive to achieve global standards in-order to strengthen India's status as a global power house of skill development. We work with organisations to build ..

Find out more : www.summentorpro.com
Twitter : www.twitter.com

About Real Estate InPro HUB - enables it's attendees across Pan-India to fill their business requirements and targets, to utilise this information to connect companies to those who matter only, this effective networking business playground also assists you to discover the prospects on the lookout for you. Once the match making is perfected, this forum allocates Face- Face meetings with the attendees who wish to work with each other. To date the attendees have already started cracking deals worth Croce's for their most immediate requirements before the forum has even taken its place. India's first fast forward initiative to be in line with the central ministries vision of PMAY, FDI's,RERA,GST, Skill Development, Affordable Housing and Technology.

Sign Up - info@summentorpro.com
LinkedIn - www.linkedin.com

Media Relations Nisha Deria
T: +91 7406532442
E: nisha@summentorpro.com
W :www.summentorpro.com