Hindustan Coca-Cola Beverages appoints Seema Nair as Executive Director
Hindustan Coca-Cola Beverages Pvt. Ltd (HCCB) - one of India's largest FMCG companies - announced the appointment of Seema Nair as SVP & Executive Director, HR. She succeeds Gaurav Chaturvedi, w
GST: E-commerce sector to benefit from faster delivery and transparency
Under the new rules, details furnished by e-commerce companies will be verified against the details provided by the merchants, which can reign in discrepancies in payments
22 March, 2017 Bengaluru: Banking and financial activities has always been the ground zero to not only implement but also determine economic revolutions and advancements. With the very wave that India is currently sailing on - demonetisation and the cashless transactions - manifests the impetus laid on how crucial it is for our banking system and the allied financial services sector to be on its toes.
Cloud and Data are areas of discussions for IT leaders in the BFSI sector considering the volume of activities happened lately in the country which will keep growing in the near future. Having said that, the major challenge today is IT security; in the mobile cloud era where datacenter infrastructures are increasingly moving towards cloud.
Cost involved plays a pivotal role in adopting a private cloud and that is exactly why public/hybrid cloud is the best option but data security is a prime area of concern, though only basic data is stored on the public cloud. According to the latest study 64 per cent in banking, financial services and insurance (BFSI) agree IT security is amongst the top business priorities.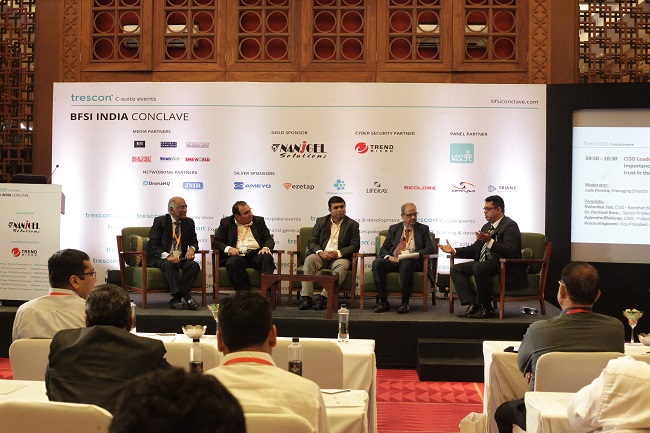 With the given scenario in the BFSI sector, Trescon is hosting the 5th edition BFSI Future Tech Conclave that aims to enable a well-conceived dialogue to address challenges and explore new avenues through innovative technologies in the industry. The conclave is taking place on 4 - 6 May 2017 at the Hilton Hotel, Jaipur, India.
It is a destination event, set in a 5-star leisure environment in Jaipur, away from the usual traffic and hectic work schedules. It incorporates high level networking, interactive panel discussions, keynote presentations, product showcase, and one-to-one business meetings.

Some of the industry leaders speaking at the conclave include; Suresh Kumar, Partner at Grant Thornton Advisory Private Limited; Sanjay Narkar, Chief Technology Officer at IDFC Bank; K R C Murthy, Vice President & Chief Technology Officer at Deutsche bank; Ram Rastogi, Head -Product Development at National Payments Corporation of India; Ashwin Khorana, Chief Technology Officer at Janalakshmi Financial Services; Srinivasan Iyengar, Chief Operating Officer at Reliance Nippon Life Insurance; and Abhishant Pant, Founder at Cashless Journey.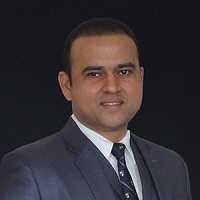 "This conclave is designed to give the maximum knowledge sharing and business development opportunities to key stakeholders and players in the Indian BFSI industry. As a global business events and consulting firm, Trescon firmly believe in the concept of knowledge sharing and discussion among industry peers and contemporaries to explore newer best practices & benchmarks for businesses across the range" said Mohammed Saleem, CEO, Trescon
The event is supported by Asia Pacific Security Magazine, Chief IT, CXO Today, Support Biz, India Core, Channel Times, Dalal Street Investment Journal, Trade briefs, Media buzz, Newswire Network.IN, Newsvoir, Insight MEA, Insight World, Enterprise Management 360°

Solution providers like, Nurture Software Solutions, Cyberbit Commercial Solutions Ltd and Finesse IT Labs Pvt. Ltd will sponsor the event.
For more information contact:
Tejashree Chinchwale
Assistant Marketing Manager
+91 80 3911 3911
tejashree@tresconglobal.com
BFSI Future Tech Conclave

ABOUT TRESCON

Trescon is a global business events and consulting firm that provides a wide range of business services to a diversified client base.

Trescon is founded and managed by a group of specialists with more than 6 decades of combined expertise in successfully developing business events, trainings and consulting for corporates, governments, associations and high-net-worth individuals across the world.

With a deep understanding of the realities and requirements of the growth markets we operate in - we strive to deliver innovative and high quality business platforms for our clients.
February 20, 2017, Chennai: The Dollar Business, India's most exclusive platform on export-imports, manufacturing and services trade, will conduct The Dollar Business G.R.O.W. (Generate Rewarding Opportunities Worldwide) Workshop at Fortel Hotel in Chennai on February 24, 2017. The workshop in Chennai will be the third in the series of G.R.O.W. Workshops planned across the country during 2016-17. The previous two editions of the workshop, held in Agra and Coimbatore, witnessed an overwhelming participation from the members of the MSME community, including manufacturers, merchant traders, service providers, among others.

The G.R.O.W. workshop agenda is designed to guide and equip individuals in undertaking export-import activities, and give them an adequate tour of EXIM procedures, documentation, available incentives, challenges, etc. The Chennai workshop will witness discussions and dialogues on several topics including:

Export documentation and procedures
Why building trust and delivering quality is more important for MSMEs than building a brand in international markets
Export financing schemes available to India's MSME community
Myths of exports that can be overcome easily through the opportunities presented by The Dollar Business platform
The Dollar Business has been constantly organising conclaves and workshops in tier I, II and III locations across India to help MSMEs and various other stakeholders of India's foreign trade fraternity deal with international business issues. Till date, representatives from thousands of MSMEs as well as large companies have participated in The Dollar Business conclaves and workshops held across India. The workshop is not only for the EXIM community but for anyone who wants to make it big in the world of foreign trade.

About the Dollar Business
The Dollar Business is the most exclusive platform on foreign trade in India. It offers everything that exporters, importers and those in the manufacturing and services sectors would have ever wished to see at one place - from India's most exclusive International Marketplace that assures any business an unbeatable edge of attention from verified buyers-sellers from around the world to a Forum that gives exporters and importers an opportunity to raise their voices against issues affecting their business. And what is perhaps the one feature that highlights The Dollar Business' efforts to further the cause of India's exporters is its GROW Programme, which is a part of the Membership Programmes that The Dollar Business has launched. The USP of this exclusive feature is that all members get access to unbeatable analyses and in-depth, actionable research from TDB Intelligence Unit, an opportunity to interact with an expert panel to clarify all their doubts with respect to foreign trade, besides many others! In short, The Dollar Business is not only for those who want to conquer the world of foreign trade, but is also for those who need a calculated launchpad to tap into the global consumer base!

To read more, log on to www.thedollarbusiness.com
For more information, please contact:
Anusha Vuthaluru |+91-8886331150|anusha.vuthaluru@thedollarbusiness.com
UNDER THE PATRONAGE OF THE MINISTRY OF MUNICIPAL AND RURAL AFFAIRS (MOMRA), DAR AL RIYADH AND NISPANA JOINTLY ANNOUNCE THE FIRST SAUDI SMART CITIES CONFERENCE 2017


With the economic diversification plans in place, key government authorities across kingdom are emphasizing on providing the best quality of life for their citizens, which means seamless transportation, state-of-the-art healthcare facilities, round the clock security, affordable housing and most importantly creating citizen centric cities. Having realized that, the citizen centric cities can only be created through better urban planning and connected infrastructures using a combination of friendly policies, state-of-the-art technologies and good governance.

Acting on the Kingdom's Vision 2030, the Kingdom will be investing over US$ 500 billion into modernizing its infrastructure across the 285 municipalities to provide the best quality of life for their citizens on par with global standards and the major contributor towards these milestones would be the Smart Technologies.

With the responsibility of developing urban infrastructure and creating citizen centric cities, the Ministry of Municipal and Rural Affairs (MOMRA), which is the governing body of all the municipalities across the Kingdom is hosting the First Saudi Smart Cities 2017 conference from 16-18 May at the Intercontinental Hotel in Riyadh, Saudi Arabia.

The Conference will be convened under the gracious patronage of the Ministry of Municipal and Rural Affairs. It is, with the accompanying Exhibition, the first of its kind in the Kingdom which will feature over 1000+ attendees from across the Kingdom and abroad who are and will be involved in the Smart Cities project, and also feature presentation on best practices in Smart Cities from over 20+ countries. Since technology is the major enabler for the success any smart city, leading solution providers both local and international will be showcasing their strengths and capabilities to help the Kingdom reach their ultimate goals.

It is worth mentioning the Conference is jointly organized by Dar Al Riyadh - a company head quartered in Saudi Arabia with capabilities in Development of Smart Cities Profiles, Urban Planning, Infrastructure Design, GIS Services, Transportation Planning, and Smart Applications, and Nispana Innovative Platforms - a company head quartered in India, with offices in Dubai and USA, is a leading Business Intelligence firm hosting market driven and educational conferences and trainings.

Prof. Abdullah Al Garni, General Manager, Dar Geomatics - Dar Al Riyadh quoted: "Our company has been working over the past four decades on developing advanced technologies and smart applications for the benefit of the national development; and given the privilege by the Ministry of Municipal & Rural Affairs to work on the Smart Cities initiative across the Kingdom, our company will be supporting this Conference for fulfilling the expectations of policy makers in the Kingdom, and facilitating knowledge sharing and meetings among key stakeholders who are and will be involved in the upcoming Smart Cities projects".

Mr. Narendra Kumar, Managing Director, Nispana added that "Nispana has been working with various government authorities over the past 18 months to contribute to the diversification effort of the Kingdom of Saudi Arabia in line with the VISION 2030. With the support of Minister of Municipal Affairs, we are very humbled to be one of the chosen company to be working on this initiative. I definitely look forward to a great event and we at Nispana look forward to extending our offerings and services to the Kingdom of Saudi Arabia".
For more information, please contact:


DarGeomatic - Dar Al Riyadh
Mr. Saad Ayedh Al-Garni
E-mail: Saad.algarni@daralriyadh.com
Mobile: +96654539444
Website: www.daralriyadh.com ps



Nispana Innovative Platforms
Mr. Jaisimha Das, Head Marketing & Communications
E-mail: jaisimha.das@nispana.com
Mobile: +966 54 545 7305
Tel: +91 80 4933 1001
Website: www.saudismartcities.net
www.nispana.com
The Department of Legal Metrology, Ministry of Consumer Affairs has issued an advisory relaxing packaged commodities regulations for Garments, Hosiery products.
1. The department of Legal Metrology has issued an advisory dated 16th December 2016 to Legal Metrology controllers of all the states and union territories for enforcement of Legal Metrology (Packaged commodities) Rules 2011 for Garments, Hosiery products.
2. As per the advisory, the mandatory labelling requirement under the Legal Metrology (Packaged Commodities) Rules, 2011 are applicable only for pre - packaged commodities, defined under Section 2 (I) of Legal Metrology Act, 2009.
3. The mandatory labelling requirements for pre - packaged commodities are therefor not applicable for garments sold in loose form.
4. With effect from 1st July 2017, the labelling requirements for garments sold in loose form in retail stores may include only four declarations e.g. 1. Name/Description of the product, 2. Size: Internationally recognizable size indicators - S, M, L, XL etc. along with details in metric notion in terms or cm or m as case may be, 3. MRP, 4. Name, Full address & Customer Care No. of the manufacture.
5. In the case of readymade garments sold to consumer in Pre-packaged form, declarations required under the Rules may be made. Further, the size of the garments needs to be mentioned in metres or centimetres, as the case may be, and any detail such as S, M, L, XL, XXL etc. may be treated as additional declaration. Click here to download the notification